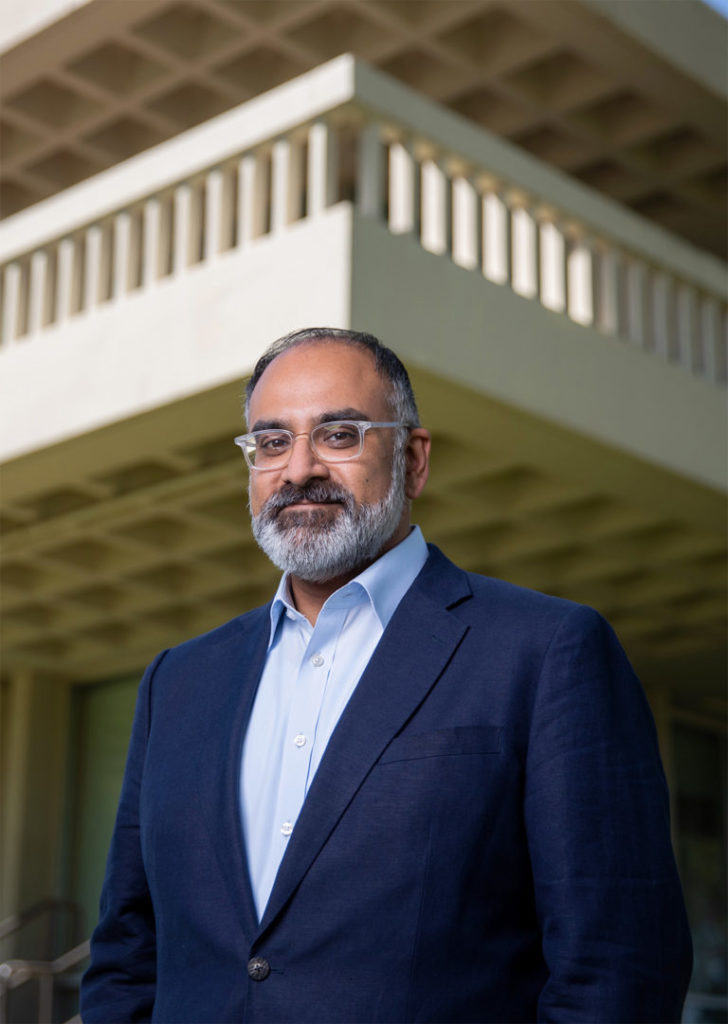 Dear Friends,
In many ways, 2021-22 marked an important inflection point for CalArts. As we began to emerge from the darkest days of the pandemic, our community of artists came alive again. Major events that so many of us have cherished, often for generations–from Halloween to graduation–brought us back to a familiar place that we love and appreciate. Yet beyond these joyous opportunities for interaction and the full return of in-person art-making, we were also able to shift some of our attention back to the important work preparing for the future.
As many of you know, Shaping CalArts Future, the Institute's 2020 Strategic Framework, is the roadmap that our community has adopted to ensure that CalArts remains a vibrant and transformative institution in the years ahead. This past year that important work began in earnest. And in this report, you will see the variety of ways that we have begun to build the structures to ensure that CalArts lives up to the aspirational values for which we strive.
This year also coincides with our celebration of CalArts 50th anniversary. And while we are rightfully proud of our storied past, it is often at moments like these when we are best equipped to look forward and ask a critical question: what can we do now and over the next few years to make CalArts the community of artists that it needs to be for the next fifty years?
As you scroll through this report and see some of the work that our community has done, I hope you will recognize that we are taking this question, and our responsibility to current and future CalArtians, very seriously. Thank you for the role that you play in this important work. We are, indeed, a community of artists and you represent a key component of that community. I am grateful for everything that you do for our current and future student-artists and I look forward to what we will accomplish for them in the years ahead.
Ravi Rajan
President of CalArts
Center the Educational Experience
The distinctive, multidisciplinary arts education that CalArts offers is transformational in a variety of ways. Below are just a few of the examples of how our community of artists has exemplified this quality over the past year.
Enrollment by School (Fall 2022)
Fall 2015 First-Time Freshmen
(Graduating by June 30, 2020)
Fall 2020 First-Time Freshmen Enrolling in Fall 2021
Remove Barriers to Access
A critical component of CalArts' mission is to expand our impact by broadening access and enabling more students and others to benefit from our unique educational experience. Here are some of the ways that we have done this over the past year.

Total amount of scholarship aid awarded in FY22
The number of institutional, endowed, and annually funded scholarships offered to students during 2021-22 academic year
Percentage of students who identify as people of color
Percentage of international students, from 63 countries
Prepare for and Shape our Sustainable Future
In order to be successful for generations to come, CalArts must ensure its long-term strength and vitality. To that end, here are some of the ways we are ensuring the Institute's sustainability.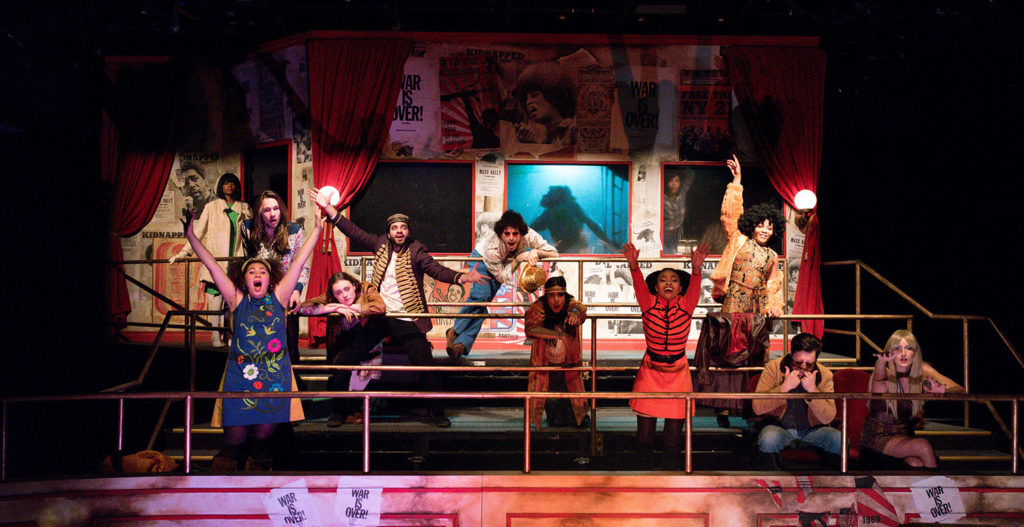 Endowment (As of June 30, 2021)
Gross Operating Budget for FY21
Budgeted Percent from Tuition & Fees in FY21
July 1, 2020 – June 30, 2021
Every effort has been made to ensure the accuracy of the information below. If you see any discrepancies, please contact Greg Houle at ghoule@calarts.edu. Thank you for your support of CalArts.
$1,000,000 and Above
The Herb Alpert Foundation

Timothy Disney

Roy & Patricia Disney Family Foundation

James Lovelace and Anahita Lovelace

Eileen Harris Norton

Eileen Harris Norton Foundation
$100,000 – $999,999
Anonymous

Colburn Foundation

Department of Cultural Affairs, City of Los Angeles

The Walt Disney Company

The Getty Foundation

John Herklotz

Herklotz Charitable Remainder Trust

Karen Hillenburg

Hollywood Foreign Press Association

Jill Kraus and Peter Kraus

Kraus Family Foundation

Susan Disney Lord and Scott Lord

Michelle Lund

The Sharon D. Lund Foundation

Jamie Alter Lynton and Michael Lynton

Diane and Ron Miller Charitable Fund

Walter E. D. Miller Charitable Fund

National Endowment for the Arts

Nickelodeon

United Plankton Charitable Trust

Anita B. and Howard S. Richmond Foundation, Inc.

Larry Richmond

Avedis Tavitian

Viacom Inc.
$25,000 – $99,999
David Abrams and Amy Abrams

The Annenberg Foundation

Bank of America Charitable Gift Fund

Lyndon Barrois and Janine Barrois

The Cecile & Fred Bartman Foundation

Louise Bryson and John Bryson

Jeanine Caltagirone and Leslie Jacobson

The Capital Group Companies Charitable Foundation

The Truman Capote Literary Trust

Cause Communications

Kathryn Chenault and Kenneth Chenault

Richard & Jean Coyne Family Foundation

Caroline Cronson and Paul Cronson

Melissa Draper and Timothy Draper

Jonathan Dolgen and Susan Dolgen

David Fisher and Marianna Fisher

Charles Gaines and Roxana Landaverde

The Ganek Family Foundation

Rodrigo Garcia and Adriana Sheinbaum

Alexandra Simone George Memorial Fund

The Greenberg Foundation

Chad Hamill and Elizabeth Hamill

Rick Haskins

Hauser & Wirth

David Johnson and Suzanne Johnson

The Suzanne Nora Johnson & David G. Johnson Foundation

David Kordansky Gallery

Thomas Lloyd and Grace Phillips

Lockton Insurance Brokers, LLC

Gregory McWilliams and Tracy McWilliams

Department of Mental Health, Los Angeles County

Thomas Rothman and Jessica Harper

The Evelyn Sharp Foundation

Abby Sher

The Shubert Foundation, Inc.

Michael Skloff and Cynthia Keener

Sony Pictures Entertainment

Susan Steinhauser Esq.

George Still Jr. and Elizabeth Still

Theresa Strempek and Peter McMillan

Iwan Wirth and Manuela Wirth
$5,000 – $24,999
Joan Abrahamson and Jonathan Aronson

Angeles Investment Advisors, LLC

Aronson Foundation

Rosamaria Belli, MD (Ami)

Bento Box Entertainment, LLC

Austin Beutner and Virginia Beutner

Dinah Buechner-Vischer

California Arts Council

Cartoon Network Studios

Cotsen Foundation for the Art of Teaching

William Davis and Ellen Gagne

Alison Doerner

Olga Garay-English

Fariba Ghaffari

The Rosalinde and Arthur Gilbert Foundation

Harriett Gold

Jonathan Greene

Jonathan L. Greene Foundation

Harold W. Grieve Charitable Trust

Agnes Gund and Daniel Shapiro

Stephen Hamill and Janice Hamill

Titia Hulst and Paul Francis

Illumination Entertainment

James Kellner and Julie Kellner

John and Maria Laffin Trust

Carlene Laughlin

Steven Lavine and Janet Sternburg

Diane Levine

Litowitz Family Foundation

Zachary Moore

Alexandra Tzetzo Morphis

Michael Neidorf and Rebecca Neidorf

Netflix

New England Foundation for the Arts

The New York Community Trust Community Funds, Inc.

The Kenneth T. and Eileen L. Norris Foundation

John Payne and Caroline Payne

Tina Perry and Ric Whitney II

Joseph Peyronnin III and Susan Zirinsky

Andy Robert

City of Santa Clarita

Leah Sklar

Anne Smith and Brien Smith

Rudyard Smith Family Foundation

Snow Angel Fund

The Fran and Ray Stark Foundation

Strypemonde Foundation

Li Yuan Wang

Wells Fargo Bank, N.A.

Alexander Westerman and David Gleason
Up to $4,999
Kara Achzet

Jane Adamson and Richard Adamson

John Addison

Orlando Agawin

Ty Agens

Suparna Agnihotri and Rahul Joshi

Randle Akerson

Susanna Alan

Gloria Orozco Allan and Douglas Allan

William Alexander and Dorothy Borresen

Jane Albusche

Amy Alexander

Shawn Alfaro

George Allen

Frances Anamosa and Paul Anamosa

Julie Andberg

Helane Anderson

Eva Anderson

Henry Anderson III and Lois Anderson

Teresa Anderson-Dvoracek and Frank Dvoracek

James Angell III and Ursula McClelland

Nicole Arbusto

Stephen Armstrong and Rachel Michaels

Tasheka Arceneaux-Sutton and Tory Sutton

Kathy Archer

Joe Arcuri

Sara Arnold

Nataly Arregoitia

Anita Assaf

Steven Avalos

Rue Avant

Jasmin Avina

Eric Ayzenberg

Ayzenberg Group, Inc.

Shahram Azmoudeh

Ryan Bache and Jamie Bache

Jordan Backhus

Dawn Baillie and Clive Baillie

John Ballinger and Uma Nithipalan

Eric Barber and Joy Barber

Lisa Barr and Steve Barr

Richard Barsky and Doreen Barsky

Andrew Bart

Cynthia Barton

Edie Baskin Bronson and Richard Bronson

Jami Bassman Ahart and Thomas Ahart

Robert Bastian

Kristin Bayer

Jeffrey Beall and Lori Jean Swanson

The Beall Family Foundation

Anders Beer and Shumin Liang

Jordan Beley

Larry Bell

Tina Bennett-Kastor

Anne Berke and Joshua Alvizu

Matthew Berke and Edith Berke

Sheila Berman

R. Bernstein and Gail Landis

Evelyn Berry

Yvonne Berry

Christopher Bertrand

Joshua Bertsche

Barbara Bestor

Sally Bickerton

Brian Bieber and Kristi Bieber

Susan Bienkowski

Klaus Biesenbach

Steven Bilow and Patricia Bilow

Deborah Blanchard

Kosta Bogoievski

Christopher Bomba and Robbie Trombetta

Michael Boom

Rodney Boone

Devin Boss

Melissa Bouwman

DeeAnn Bradley

Lily Brady

David Brisbin

Deborah Brochstein and Steven Hecht

Beth Brody and Edwin Brody

Jessica Bronson

Laurrie Brooke

Emilie Talbot Brooks and Gordon Brooks

Deborah Brothers and Paul Park

Megan Broughton

Joseph Brown 

Keith Bryant

Michael Bryant

Theresa Bucher and Larry Bucher

Tracy Bulkeley

M. Running Bear Bunch and Jill Bunch

Gregory Burk

Monica Buroker and Brian Buroker

Zane Burrows

Theodore Burtis

Ana Bustamante

Francesca Butler

Judith Butler

Robert Butler and Denise Gray

Kaitlyn Cairo

Kathy Cairo

Andrea Callard

Cynthia Calley

Aaron Campbell and Kelly Vogt-Campbell

Robert Campbell

Andreas Cangellaris and Helen Cangellaris

Riccy Carabeo

Lance Carlson

Larry Carnes

Cynthia Carrillo

David Case

Margo Cash

Destiny Castillo

James Caswell and Ann Platz

Conny Cavazos

Cassandra Chae

Richard Chambliss Jr.

Claire Chandler and Tom Nixon

Heeyeon Chang

Charles Chapman Jr. and Susan Chapman

Sarah Chenault

Rita Chenoweth

Matthew Chesse and Gillian Chesse

Colin Chiang and Hui Fang Boo

Rana Cho

Pamela Chomba

John Churchville and Jody Little-Churchville

Mark Chung

Christopher Church

Dian Chute

Diana Cioffari-MacPhee and Matthew MacPhee

Cassandra Cisneros 
Lily Ho Chen and Chris Chen

John Cleaveland and Julianna Rees

Maria Clement

Kim Cohen and Kenneth Cohen

Jim Collette and Lanita Collette

Kristen Coogan and Thomas Coogan

Lucy Cook

Erin Cooney

Natalie Cothren

Robin Cottle and Ron Radziner

Susan Coulson and Chris Coulson

James Crenshaw and Julie Crenshaw

Rodney Crumrine and Roslyn Biskin

Crystin Cox

Aodhan Creegan

Nicole Crevier

Richard Cusick

John D. Amico and Keith Rand

Danielle Davis

Linda deBaun

Catharine Deely

Robert DeHarrold

Michele DeJesus

Anthony DeMaria and Lydia DeMaria

Bindu Desai

Tess Deshefy-Longhi

Vrunda Dhole

Diane Diamond

Jeffrey Diamond

Tom DiLillo and Amy DiLillo

Alice M. Ditson Fund of Columbia University

Donald DiPietro

Lyle Dohl

Dolby Laboratories, Inc.

Randall Dottin

Elizabeth Doyle

Eric Drachman

Zackary Drucker

Aleta Drummond

Derek Drymon and Nancy Moscatiello

Dana Duff and Alan Berman

Ben Duncan and Helen Duncan

James Dunham and Deborah Dunham

David Dunn and Karen Dunn

Laura Duran and Mark Duran

David Dwyer 

Jerry Eisenberg and Raymonde Eisenberg

Esther Edber

Lori Ekdahl

Roger Emanuels

Entertainment Partners

Jane Eston

Carol Evans

Daniel Evans

Dale Everett

Diane Ewing

David Fain and Sheila Sofian

Madeline Falcone

David Falk and David Williams

Rachel Falk and Mark Falk

Thomas Falk

David Familian and Karen Moss

Natalie Farrar Adams

Michael Feibish and Julia Newton

Marylou Ferry

Richard Ferry and Maude Ferry

Will Fishel

Carol Fisher Sorgenfrei

Lauren Fisher and Alexina Matisse

Jessica Fleischmann

Abra Flores and Edward Burnett

Michael Fracassi

Efren Franco

Amy Frankel

Susan Frankel

Harmony Frederick and Jason Frederick

Michele Freeland

Rick Fried and Helene Wasserman Esq.

Gisela Friedman

Yumiko Friedman and Malcolm Friedman

Thea Frontino

Bhavana Gallewale

Rosanna Gamson and Barnaby Levy

Maria Garcia

Rebecca Garcia

Benjamin Garfinkle and Amy Garfinkle

Margaret Gascoigne

Alexandra Gavillet

Lynn Gaza

Alexander Gedeon

Janie Geiser and Lewis Klahr

Alexi Carol Gehring 

James Geocaris and Diane Geocaris

Mielle Gerard

Gene Gill

Madison Girifalco

Robert Gjerdingen and Catherine Gjerdingen

Barbara Glauber

James Glisson and Claudio Abbondanza

Andrew Gold and Karen Cutler

Paula Goldman

Emma Goldman-Sherman

Rebecah Goldstone

Kelly Goldwait and Patrick Goldwait

Amy Goldwasser

Sanjuanita Gonzales and Emmett Doherty

Tom Gooden and Laura Foley

Jennifer Gordon and Scott Gordon

The Gotham Group, LLC

Mahesh Goyal

Renate Graf

Cameron Grant and Helena Grant

Lori Grapes

Thomas Greenberg and Rachel Greenberg

Stefani Greenwood

Christian Greuel and Laura Kusumoto

Robert Griess

Hollis Grimes

Northrop Grumman

Laura Gutiérrez

Mimi Haddon

Curt Hahn

Steve Hamachi and Christine Hamachi

Thomas Hammond and Tera Stone

Vicky Hamrick

Katherine Hanburger and Stuart Nichols

Jay Handlin and Laura Kansky

Julia Hardaway

Mary Helen Harper

Sydney Harrington

Jason Hart

Meg Hart and Doug Hart

Susan Haslett

Darlene Hasselbring

John Hastings and Maria Hastings

Jomo Haywood

Kathryn Headley and Jay Headley

Mary Beth Heffernan and Howard Rodman 

Karolyn Heimes

Susan Hering

Mary Herzog

Johanna Hibbard and Michael Annus

Wendy Hill

Harriet Hill Orren

Maury Hillstrom

Karin Hoesli

Courtney Hollander and David Hollander

Eric Holmgren and Ellen Holmgren

Jamie Hopkins

Raquel Horsford

Gregory Houle

Isabelle Howard

Leslie Howes

Margaret Hunt

Emily Ietaka and Jiro Ietaka

Deborah Irmas

Anna Jablonski and Alex Jablonski

Joshua Jade

Vivek Jaikamal

Lekha Jandhyala

Roman Jaster

Charmaine Jefferson and Garrett Johnson

Sharon Jelinsky

Sharon Jeniye and Burl Cohen

John Jenkins and Susan Jenkins

Benjamin Johnson

Margo Johnson and Chip Purrington

Terrence Johnson

Paige Johnson

Fern Jones

Maureen Jones

Ana Jones Madrid

Vivek Joshi

Vishal Jugdeo

Sunil Kadam and Shilpa Kadam

Kadenze, Inc.

Kerstin Kaiser

Doron Kamara and Nicole Kamara

Edith Kaplan

Jeanne Marie Kaplan and Peter Kaplan

Alyce Kaprow

David Karwan

Anna Karydas

Joci Kelleher 

Matthew Kelly

James Kent and Migdalia Cruz

Michelle Kern

Maurya Kerr

Cheryl Kershaw and Terral Kershaw

Diane Ketelle

Anish Khanzode and Deepali Khanzode

Amanda Kik and Brad Kik

Tomi Kilgore

Mimi Kim

Somi Kim

John King

Mark Kirkland and Letty Kirkland

Ira Klein

Phyllis Klein

Paige Knight

Amy Knoles

David Koehler

Geoffery Krafft and Alicia Hofler

Carol Krause

Mugdha Kulkarni and Chaitanya Godsay

Sally Kurnick

Mike Kutcher and Debra Flores

Victoria Lam

Jack Lamb and Moira McCarty-Lamb

Kerry Lamperts

Sally Lapiduss and Francesca Bartoccini

Lada Beara Lasic and Zoran Lasic

Jonathan Lasker

Elisabeth Lassanyi

Georgia Lassner

Camellia Latta and Lutz Latta

Jesse Lattig and Reem Baroody

William Lebeda and Christine Ferriter

Sharon Le Duy and Christophe Le Duy

David Lee

Thomas Lee and Colleen Lee

Caroline Leech and Perryn Leech

Amber Lepley

Johanna Lerner

Charles Levin

Robert Levine and Gili Meerovitch

Stanley Levine

Debbie Lewis and Mark Lewis

Cal Liedtke

Catherine Lightfoot 

Ben Lipitz and Rosalie Lipitz

Laura London

Frank Long and Francesca Pique

Michelle Longosz and Matt Hammer

Thea Lorentzen

George Lugg and Marc Arrañaga

Amanda Lui and Soonsol Hong

Peter Lunenfeld and Susan Kandel

Carole Lung-Bazile

Aliana Lungo-Shapiro and Stephan Shapiro

Donald Lyman and Elisabeth Lyman

Kathan Lynch

Lisa Lyons

Cheryl MacPhee

Sarah Macy

Kiffen Madden-Lunsford

John Malpede and Henriette Brouwers

Mischa Mandel-Giegerich and Lauren Rille

Michael Mandiberg

Thomas Manjooran and Susan Baik

Salvatore Mannino

Steven Margolis and Joanne Seltzer

Victoria Marks and Daniel Froot

Babette Markus-Weir and Jack Weir

Denman Maroney and Erin Maroney

Armando Martinez-Celis and Brooke Irish

Daniela Marx

Susan Matsumoto and Mel Kennedy

William Maxfield and Susan Maxfield

Jeanette May

J. Peter May and Maija May

James Mayagoitia

Mark Maynard

Martin McCarthy

Kathleen McCauley

Cady McClain

Sara McDowell
Kathleen McHugh

Megan McLemore

Elisabeth McMullin

Medical Centre Occupational Health Rijeka

Juanita Medina

Myron Meisel and Carol Bahoric

David Meltzer and Beth Meltzer

Glen Meredith and Joanne Valli-Meredith

Jeffrey Mertz 

Sarah Mgeni

James Michel and Vinnett Michel

Microsoft Corporation

Jeanne Milazzo

Kyle Militzer

C. Miller and Nathalie Miller

Tyrus Miller and Deanna Shemek

Ying Ming Tu and Angela Oh

Kristie Minke

Carolina Miranda

Jan Mitsumori

Riko Mizuno

Olivia Mole and David James

Morgan Monahan

Stephen Moore

Christopher Morabito

Marissa Moreno and Jeffrey Moreno

Selena Moshell

Moss Family Foundation

James Mowry and Lisa Dittbenner

Eve Mueller

N. Silas Munro and Bill Hildebrand

Colleen Murakami

Anita Nagler and Robert Moyer

Phillip Nails

Brian Nassau

National Conference on Citizenship

National Film Preservation Foundation

National Performance Network

Dorothy Navarro

Asheley Needleman

Denise Nelson and Roy Nelson

Catherine Nesci

Robert Newman and Nicola Kaftan-Newman

Kali Nikitas and Richard Shelton

Herbert Nishii and Teri Nishii

Lurene Noland

Susan North

Jill Nutting

Kenneth Oberlander

Naoyuki Oguri and Roxanne Steinberg Oguri

David Olson

Olga Oreshkina

Timothy O. Sullivan and Pam O. Sullivan

Paul Outlaw and Ray Busmann

Devin Overman 

Marc Pally and Jacquelyn McCroskey

Alan Palmiter and Fabiola Bojanini

Mallika Pangrekar

Andrea Paradise and Jeffrey Paradise

Jane Park

Laura Parker and Branislav Kecman

Cynthia Paskos

Jan Paulshus

Nicole Pearce

Cohen Peart and Jamie Bendrick-Peart

Maryl Jo Peltzie and Bernard Peltzie

Constance Penley

Tracy Pennoyer

Francesca Penzani

Cuauhtemoc Peranda

Dennis Perluss

Marchele Peterec

Bruce Piner and Andrea Piner

Robert Podesta and Lesley Podesta

Timothy Popejoy

Lionel Popkin and Alex Purves

Osman Posada

Joseph Potts

Travis Preston and Marissa Chibas-Preston

Janice Prezzato

Thomas Prince and Charlene Reichert

Miriam Prum Hess and Mark Hess

Francis Quinn and Nicole Claro

Estate of Winifred Williams Rabbitt

Dan Rankin

Alan Rapoport and Tess Chappuis

Daniela Rechtszajd

Mary Beth Reed

Michael Reese

Kenneth Reinhard

Randy Reyes

Rosina Reynolds

Melinda Rice

Jonathan Richter and Elise Richter

Jessica Ringle

Isabel Rippy

Juan Rivera

Curtis Roads

Aron Roberts

Sara Roberts and Palle Henckel

John Robinson 

Julia Rosenfeld

Lynn Rosenfeld and Edward Rosenfeld

Adam Rosenkranz

Sue Rosenstock

Leigh Roush and Edmund Roush

Nicole Taylor Rowe

Aviva Rubin

Jennifer Rubinoff and Brian Rubinoff

Eric Rudnick

Malia Rudoi and David Rudoi

Edward Ruscha IV and Danna Ruscha

James Ruscica and Lisa Ruscica

Douglas Rushkoff and Barbara Rushkoff

Morgan Rusler and Lynda D. Angelo

Judi Russell and Lies Kraal

James Sadd and Roberta Pollock

Fill Marc Sagadraca

Abigail Salling

Myrna Saltzberg

Louise Sandhaus

Jitendra Sandhe and Mita Sandhe

Marlin Sandlin

Tanaporn Sangmanee

Ria Sardana

Barbara Sattler and Alfred Sattler

Shirley Savarino

Patricia Sazani

Paul Schierenberg

Lindsey Schiff-Abrams and Gregg Sultan

Karen Schiller

Jerome Schmelzer and Sharon Schmelzer

Esther Schor

Samuel Schwartz and Shanit Schwartz

Anthony Scudese

Mark Seiden

Josh Selzer

Todd Semla and Susan Semla

Sempra Energy

Suneet Sethi

Matthew Severson

Arthur Shapiro and Carolann Shapiro

Diane Shaw

Mary Shebell

Edward Shils

Samuel Shin

Lillian Shine 

Asya Shklyar

Katherine Shook and Thomas Watkins

Preetesh Shrivastava

Rosemary Siciliano

Suzanne Siegel

Susan Silton

Nicolas Simonin

Julie Simonsen

Six Point Harness, Inc.

Skydance Media, LLC

Christopher Smith

Barbara Smith

Jesse Smith and Souraya Smith

Sarah Smith

Wesley Smith and Lisa Smith

James Snodgrass and Pamela Snodgrass

Michael Snow and Elizabeth Lemons

Donald Snowden

Haruka Sometani

Amy Soo

James Sperber and Corey Hajim

Edda Spielmann

Cameron Squire

Robert Stadd and Rachel Hobreigh

John Stahl and Darsi St. Louis

Judy Stahl

David Starkopf

Hollace Starr

Valerie St. John and Scott Starbird

Saida Staudenmaier and Eric Staudenmaier

Steelcase Foundation

Morleigh Steinberg and David Evans

Mary Stevens

Mary Stewart

Ronald Stewart and Erma Stewart

Dale Stieber and Theodore Levy

William Stout

Gwen Strong

Patricia Sultan and Randall Sultan

Jeff Summers

Jadine Surette

Nicholas Sweet and Vanessa Sweet

Steve Swift

Ibolya Szuromi

Nancy Takiguchi

Erica Tanov and Steven Emerson

Helena Tanttuknapp

Vivien Tartter

Shalynn Taylor and Dale Taylor

Ann Telnaes

Anne Terrail

Carol Teutsch

Barbara Thorngren

Tic Toc Studios, Inc.

Hideaki Tokunaga and Carrie Tokunaga

Narumi Tokunaga and Hoei Tokunaga

Luis Torres-Marrero and Johana Garcia

Terri Treloggen-Clark

Jerome Treiman and Nina Treiman

Danel Trisi and Naomi Sorkin

Vincent Tula

Stanley Tusan and Barbara Tusan

TVPaint Developpement

James Tysell

Doug Upshaw

Nancy Uscher and William Barrett

Mark Valdez

Andrea Van de Kamp

Joseph VandenBussche and Rene Guerrero

Kirsten Vangsness

Rebecca VanVoorhis

Jack Vees and Elizabeth Van Cleve

Preeti Vellore and Janardhan Vellore

Idara Victor

Estela Victoria

Todd VonBastiaans

Vineet Vyas

Dinora W.

Evan Waddell

James Walley and Dominique Ferate

Madeline Walsh

James Walters and Cheryl Walters

Jian Wang and Nan Weng

Xiaoqing Wang

Sally Weber

Shelly Welcome

Wells Fargo Matching Gifts Program

Robert Wemischner and Leslie Raffel

David Wendt and Carrie Wendt

Katrina Werner and Jason Tokunaga

Howard Wershil

Stephen West 

City of West Hollywood

William Whalen and Kathy Whalen

Laurie Whitcomb

Glynis Whiting

Pam Whitman

Michael Wiese and Margaret Hennessey

Paul Wieselmann

Lorraine Wild and John Kaliski

Corinne Williams

Denita Willoughby and Anthony Willoughby

Tanya Wilson

Edwin Woll

Barbara Wolken and James Wolken

Tai-Ling Wong

Ximón Wood

Nathan Woolard

Chris Worland

Bruce Wright

Gavin Wynn

Christina Wyss-Coray

Heather Yarris-Price

Mary Yoder and John Ruppenthal

Amy Young

Mary Yoder and John Ruppenthal

Susan Zare and Richard Zare

Janice Zimmerman

Fortune Zuckerman